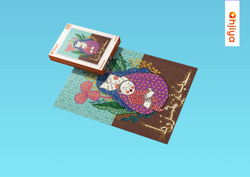 Experience the extraordinary journey of motherhood piece by piece with our "Motherhood" jigsaw puzzle. This exquisite puzzle is not just a collection of pieces but a heartfelt tribute to the boundless love and strength that mothers bring into our lives.
Unconditional Love: Dive into the only love that knows no bounds, a love incomparable to any other. Motherhood encapsulates the purest form of affection that transcends all expectations.

Strength and Transformation:  Discover the incredible reservoirs of love and strength within yourself through the beautiful journey of becoming a mother. It's a transformation that shapes you into a remarkable force.

Exhausting Yet Rewarding: Motherhood is a paradox of exhaustion and reward. Unearth an unparalleled sense of purpose and fulfillment that defines this life-altering experience.



Key Features:
1000 pieces for an engrossing and deeply satisfying puzzle-solving journey.

Puzzle Dimensions: 48 X 68 cm, unveiling intricate details as you piece it together.

A heartwarming tribute to the essence of motherhood, the unwavering love and strength of mothers worldwide.
**Embrace the Messiness:**
Learn to embrace the messy yet beautiful aspects of life, just as mothers do. It's not about perfection but about nurturing a joyful home filled with love.
**What Truly Matters:**
What Truly Matters: Above all, motherhood reminds us of what truly matters in life—the love and bond we share with our children.
Celebrate the Journey of Motherhood with "A Mother's Love | 1000 pcs."